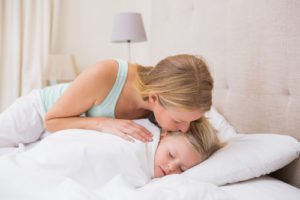 Night time separation isn't a problem for some children. They may negotiate an extra book at bedtime or hop out of bed once or twice, but in the end, a tuck in and a kiss is all they need to drift happily off to sleep.
For others, bedtime isn't that simple. Disconnecting from the parents they rely on to keep them safe and protected is hard. When you think about it, it's not surprising that some children find it difficult to say goodnight. Those 10 or 11 hours of sleep are the biggest separation of a child's day.
For children that struggle, bridging the gap between bedtime and morning – helping them to feel connected to the us even when we're apart – is the key to a happy bedtime. Check out my full article at Fairfield County Mom's Blog for ways to cultivate the connection.