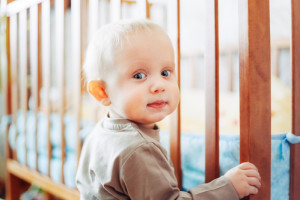 At my office, the new year is "ringing in" with a TON of phone calls from frantic parents whose toddlers are climbing out of their cribs. If you're the parent of a crib climber I'm sure you can relate. The first time it happens is a heart stopper! One minute you're tucking them into their crib and 5 minutes later they're standing at the top of the stairs! Crib climbing is scary, especially if you're worried that your child is going to hurt themselves when they try.
If you've read my FCMB article on cribs vs big kid beds you already know that I strongly recommend keeping children in their cribs until they're at least 2.5 or 3 years of age. Younger children simply don't have the cognitive ability to understand what "stay in bed all night long" means! The freedom of a bed and a toddler's lack of impulse control is a brutal combination that can not only lead to difficult bedtimes  – it can be downright dangerous if they decide to wander around in the middle of the night.
If your child has started crib climbing you may think that switching to a bed is your only option. Don't jump to that conclusion right away! With patience and consistency even very determined climbers can be taught to stay in their crib. Click here to read the full article.