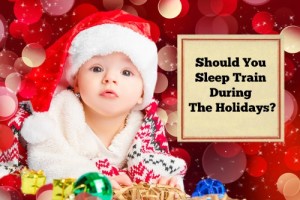 If a good night's sleep is on the top of your wish list this season you may be thinking about sleep training during the holidays. But is it really a good idea to teach sleep skills during this busy time of year? Ask yourself the following questions to decide if the time is right, or if it's better to hold off until after the holidays are over.
Is your child old enough? Most babies aren't developmentally ready to learn long term sleep skills until they're at least 4.5 or 5 months of age. Sleep training very young babies is not recommended, so if your baby isn't there yet, you'll need to wait a bit longer before starting. Focus instead on creating positive associations with sleep, creating an environment for sleep and giving your baby frequent opportunities to sleep. Continue doing whatever it takes to keep your baby well rested, and don't worry that you're creating bad habits by rocking, feeding or holding your baby until they nod off. Nothing you do in the early months to keep your baby well rested will get in the way of them learning long term sleep skills when the time is right.
For the full article, click here.